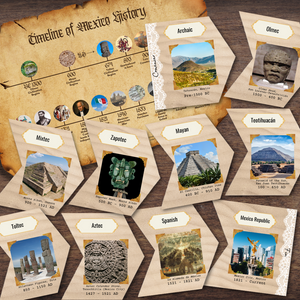 MEXICO Mexican History Timeline Poster & Period Cards | Olmec Maya Toltec Aztec, etc
Learn about the rich Mesoamerican history of Mexico with our timeline poster featuring major historical events in Mexican history. Discover major civilizations over hundreds of years and match them in order; some of these incredible civilizations overlap, so be careful! Perfect for students and teachers, it's an ideal way to learn and remember the history of Mexico.
Includes four (4) pages of resources, also included in the Mexico Activity Book.