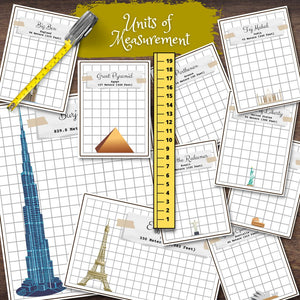 Units of Measurement - World Largest Landmarks Buildings Comparison | Math: Measuring & Counting
Compare and contrast iconic landmark buildings around the world with this interactive measuring activity. From the tallest building to a collection of historical and ancient wonders, this activity teaches young children counting, units of measurement and comparison. Features grid cards with each building having relatively accurately height comparison and a measuring ruler to compare. Also includes location of building and specific details.
*Includes four pages of resources, also included in the Egypt Unit Study Bundle.