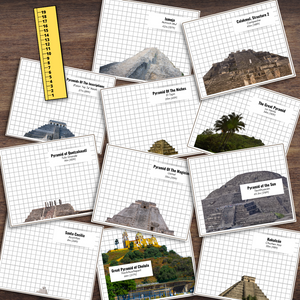 Units of Measurement - MEXICAN Mesoamerica Pyramid Measuring Cards
The Great Pyramid of Giza is known for it's size, but hiding under the grass, trees and soil sits the Great Pyramid of Cholula, deemed the largest monument ever built on Earth, with a base four times the size of the Great Pyramid of Giza.
Compare pyramids in Mexico created by ancient civilizations such as as the Maya, Toltec and Aztec. Includes measuring "ruler" and children can compare and contrast heights. Includes details about each pyramid on the cards. Height shown is actual difference between heights and include real full-color photos of each pyramid peak.
Includes three pages of resources and 11 different peaks as well as included ruler. Also included in the Mexico Activity Book/Unit Study.