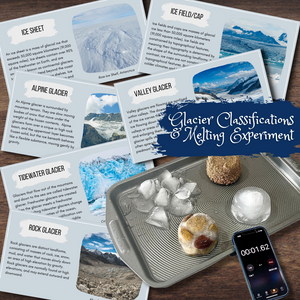 Types Glacier Info Cards *FULL COLOR* Glacier Melting Activity w/Instructions
Learn about the different types of glaciers with full color information cards. Experiment how variables like mass and additives affect melting in a hands-on science activity with instructions.
Includes four pages of resources, also included in the Antarctica Activity Book. Items shown in photos are props of how to do the experiment, not included in this offer.