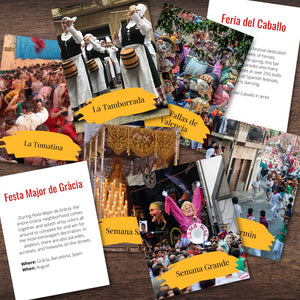 SPAIN Spanish España Festival Info Cards | FULL COLOR Spanish Celebrations
The country of Spain offers many traditional festivals which are celebrated throughout the country. These full-color information cards describe eight festivals, when and where they are celebrated and a full color image of the celebration. Great for learning about European or Spanish culture, or discover celebrations around the world.
Includes four pages of resources. *Resources also included in our SPAIN Unit Study Bundle.