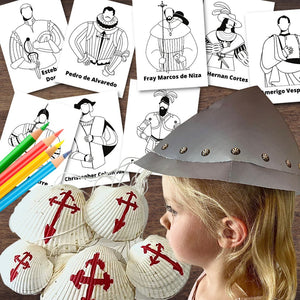 SPAIN Spanish Conquistadors Cards Helmet Craft Camino de Santiago Shells
Explore the religious history of Spain with these interactive activities. Create your own Camino de Santiago scallop shells, learn about famous (or infamous) conquistadors who explored on behalf of the Spanish and Portuguese countries. Create your own conquistador helmet with printable templates and step-by-step instructions.
Includes seven pages of resources. Does not include pencils or shells, just the resources to make the items.
*Also included in the SPAIN Unit Study Bundle.