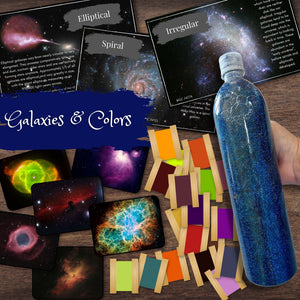 SPACE Nebula Galaxy Study | Sensory Bottle, Color Matching & Info Cards
Galaxies are compositions of millions to billions of stars, gas and dust, held together by gravitational attraction. The various colors in a galaxy are due to the types of stars found in those regions, which are called stellar population. Nebulas are a cloud of gas and dust in outer space, visible in the night sky either as an indistinct bright patch or as a dark silhouette against other luminous matter.
Learn about the different types of galaxies in these full color illustration cards. Create a calming sensory bottle which appears like a galaxy with step-by-step instructions. Match colors to different nebula images with Montessori-inspired color matching.
Includes six pages of resources, also included in the SPACE Unit Study Bundle.