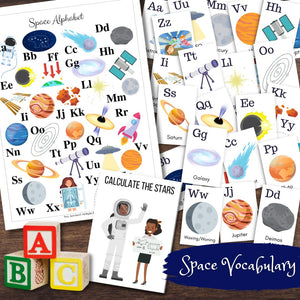 SPACE Alphabet Flash Cards ABCs & Poster | Mini Book | Vocabulary Spelling Letter Association
Practice word associations with these full color, space-themed alphabet cards. Includes a poster and a mini-book describing the story of the USA space race. Includes nine pages of resources.
*Resources also included in the SPACE Unit Study Bundle. 

*Illustration may show completed items or props, please note that this offer is ONLY for the resources used, not completed items.