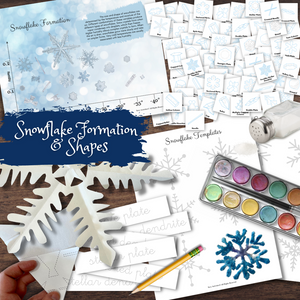 Snowflake Formation Designs Poster Matching Labeling Craft Bundle
Learn how humidity and temperature can affect snowflake formation with a beautiful illustrated poster featuring digital renditions of snowflake designs. Match some of the major snowflakes designs with exclusive line art made specifically for this bundle. Cut snowflakes out of paper using designs of six major plane designs of snowflakes. Practice cursive tracing and label each one. Lastly, make beautiful snowflakes designs out of salt and watercolors, including templates.
Includes 11 pages of resources, also included in the Antarctica Activity Book.