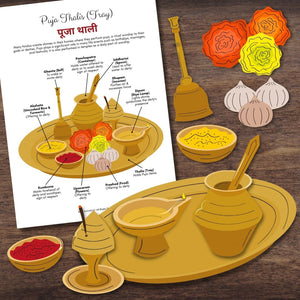 PUJA Pooja Service Set Matching Activity w/Poster - Learning Hindu Hinduism
Performing Puja incorporates so much of the culture, traditions of India along with Hinduism. While it is performed during many festivals and events, it is a way to honor various deities and invite their presence.
The Puja Thali पूजा थाली is a plate of items that are used during the Puja. Each item carries an important piece of significance. Children can arrange the Puja articles on a tray and learn about the significance of each item and its use.
Includes three (3) pages of resources, print size 8.5" X 11" inches and also included in the INDIA Activity Book.