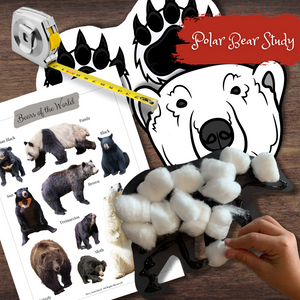 POLAR BEAR Measuring Activity Cotton-ball Craft & Bears of the World Poster
Learn about the Polar Bear with interactive hands-on activities. Compare yourself in size with our polar bear measuring activity - complete with printable head and feet to use for reference. Create a fun polar-bear craft with black paper and white cotton balls, perfect for the younger learners; includes polar bear outline. Identify major species of bears around the world with our full color BEARS poster.
Include six (6) pages of resources, size 8.5 X 11 inches. Resources also included in the CANADA Activity Book.