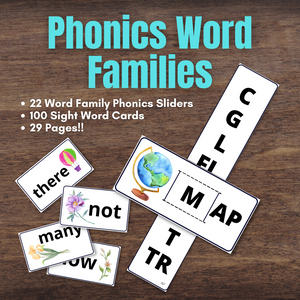 PHONICS Word Family Phonetic Sliders + SIGHT WORDS - 22 Sliders, 100 Sight Words!
Practice early reading skills with this gorgeous educational activity. Includes 22 sliders of word families that have phonetic similarities. Young readers can work on identifying different words by moving the slider up or down to create different combinations/words. Also includes 100 different sight word cards to learn/memorize. Perfect for early readers and summer educational fun!
Includes 29 pages of resources.