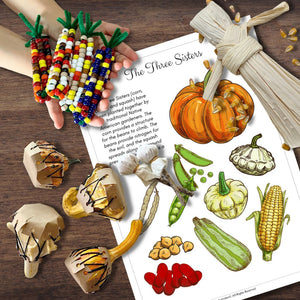 NATIVE AMERICA Three Sisters Poster Crafts Corn Husk Doll Squash Drums Bead Corn
Learn about the Three Sisters (corn, beans, and squash) - crops that have been planted together by traditional Native American gardeners. The corn provides a structure for the beans to climb. The beans provide nitrogen for the soil, and the squash spreads along the ground preventing weeds. This is a form of companion planting.
Create a DIY Corn Husk Doll, Rainbow Corn from beads, drums from squash/gourds and practice fine motor skills with corn kernel removal. Includes a full color poster and three step-by-step activity guides. Five pages of resources included. Also included in the NATIVE AMERICAN Unit Study Bundle.