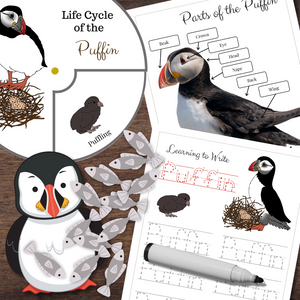 Montessori Inspired Puffin Mini-Study Life Cycle, Parts of, Tracing & Counting Bundle
Learn all about the puffin bird in this full color mini study. Included is a life-cycle spinner showing how the puffing grows from an egg into an adult bird. A labeling poster to match parts of with control poster. Also included is tracing work to learn how to write/spell "Puffin". Learn numbers 1-12 in fun Puffin and fish counting pieces.
Resources also included in the Iceland Activity Book.