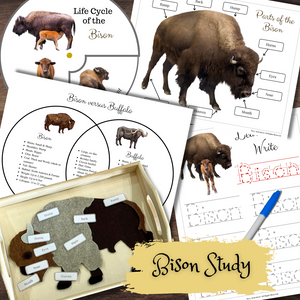 Montessori-Inspired Bison Buffalo Life Cycle Comparison Anatomy Tracing
Learn about the great Bison with a life cycle, parts-of & tracing of the word Bison. Learn the different between bison and buffalo and create a interactive Bison anatomy puzzle out of felt. Great for learning about the fauna of North America or as part of a study on Native American Indians.
Resources also included in the Native America Activity Book!