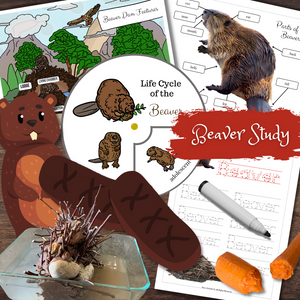 BEAVER Mini Study STEM & Montessori Activities Posters Life Cycle Anatomy Games
Learn all about the beaver with this fun Montessori and STEM Inspired Mini Study. Learn about the life cycle of this amazing animal, as well as parts of the beaver dam. Learn the different anatomical parts of the beaver and learn to trace "beaver" with our writing work. Make your own beaver dam with our STEM challenge that can hold water! Practice chewing like a beaver with vegetables and play pin the tail on the beaver for a fun activity!
Includes ten (10) pages of resources, sized 8.5 X 11 inches. Also included in the CANADA Activity Book.