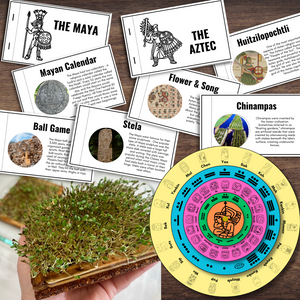 MAYA & AZTEC Civilizations Flipbook, Calendar, Chinampas Activity | Mesoamerica History
Learn all about the two major ancient civilizations of Mesoamerica through info flip-books and hands on crafts. Students will learn major highlights of each civilization and how they have left their mark on the culture of Mexico and North America today. Make a working Maya calendar and floating gardens called chinampas, first invented by the Aztecs.
Includes eight (8) pages of resources.
*Resources also included in the MEXICO Activity Book.