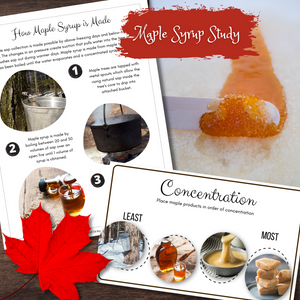 MAPLE Syrup Process Poster | Dilution vs. Concentration | Maple Taffy Recipe
Learn how Maple Syrup is made with our illustrated, full color poster. Also includes matching of four different forms of Maple products - Sap, Syrup, Cream & Sugar. Lastly, create maple taffy or "sugar on snow", a traditional North American delicacy, with step-by-step instructions and recipe.
Includes three (3) pages of resources, sized 8.5 X 11 inches. Resources also included in the CANADA Activity Book.