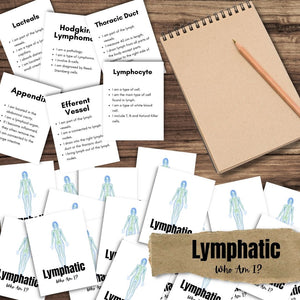 LYMPHATIC System Anatomy & Physiology Card Game Who Am I? - 36 Cards
Learn about the Lymphatic System in this fun, interactive card game. Perfect as a unique way to study anatomy and physiology. Uses may include a post-conference activity for nursing clinicals, homeschool resource for human body study, interactive classroom activity or challenge knowledge of this body structure and system.
Includes 36 different terms which can be guessed by four different clues. Can be used in teams or as a flashcard for individual learner. So many ways to play!