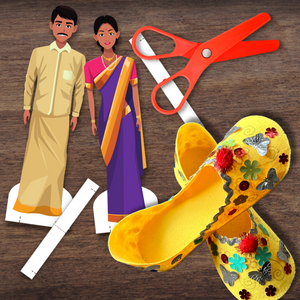 INDIA Traditional Clothing Paper-doll Set & Jutti Shoes Craft
Juttis are shoes with a closed upper attached to a flat sole with no left or right foot distinction. Initially used by Indian hundreds of years ago, these shoes were originally heavily decorated with gold, silver, pearls and gemstones.
Modern versions feature elaborate stitching instead of gaudy jewelry, making them better suited for the general public. Juttis are also known as mojari or khussa, depending on the location.
This resource includes step-by-step instructions to making your own set of these unique shoes as well as paper doll versions of male/female traditional Indian clothing. Includes four (4) pages of resources.
*Resources also included in the INDIA Activity Book. Does not include felt or decorations, only the instructions and pattern.