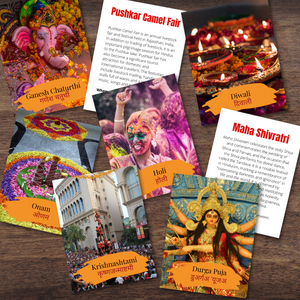 INDIA Indian HINDU Festival Information Cards *FULL COLOR* w/Hindi Names ASIA
India is estimated to have over a thousand festivals throughout the year. Of these festivals, over 30 are officially recognized. Festivals in India are welcomed with big celebrations and sometimes a unison of cultures. We feature eight iconic festivals central to Indian and Hindu culture with colorful info flashcards and descriptions.
Includes four (4) pages of resources, 8.5 inches by 11 inches, double-sided. Resources also included in our INDIA Activity Book.