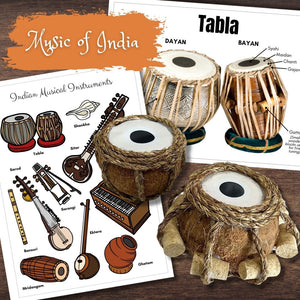 INDIA Coconut TABLA Drum Craft Musical Instrument Poster w/Instructions ASIA
Make your own tabla, a pair of hand drums originating from India. They are frequently played in popular and folk music performances in India, and an essential instrument in the bhakti devotional traditions of Hinduism and Sikhism, such as during bhajan and kirtan singing.
 Includes printable pieces, step-by-step of instructions and a illustrated poster of this and other musical instruments of the sub-continent of India.
Includes four (4) pages of resources, 8.5 X 11"; also included in the full INDIA Activity Book. Coconut shells required for completion not included.