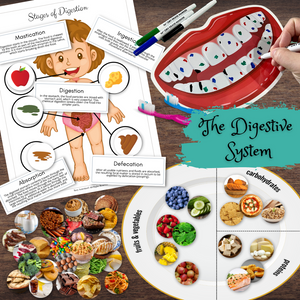 Human Anatomy Digestive System Matching, Hands-on Activity & Healthy Plate
Learn the stages of digestion with a full-color poster, a hands-on sensory activity where you complete each stage and make well, um, er poop at the end! Promote healthy oral health with the erasable marker teeth brushing activity. Learn to make healthy choices with the "healthy plate" sorting work.
Resources also included in the Human Anatomy Activity Book.