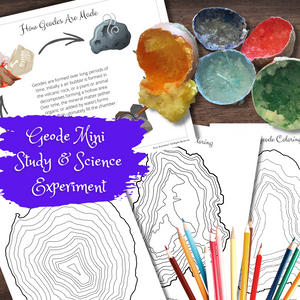 GEODES Geode Poster, Science Experiment & Coloring Activity | Geology
Geodes are created from mineral compositions found in small pockets of lava or after the decomposition of plant of animal life during fossilization.
Discover this process with our full color, illustrated poster and geode cracking activity and make your own geodes with a hands-on science experiment, with step-by-step instructions. Color three exclusive geode cross-section designs with crayons, markers or watercolors to create unique art.
Includes six (6) pages of resources. Also included in the Mexico Activity Book/Unit Study.