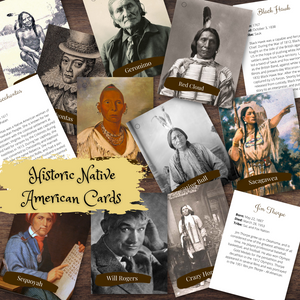 Historic Native American Indian First People Info Flash Cards
Learn about some of the historic Native Americans/First People of North America in these colorful info cards. Provided is dates of birth/death and the tribe they belonged to, as well as some of what they are most known for. Information is stated as historically accurate as possible. Includes six pages of resources, also included in the NATIVE AMERICA Unit Study.
Available as a digital file or as a printed copies mailed to you!