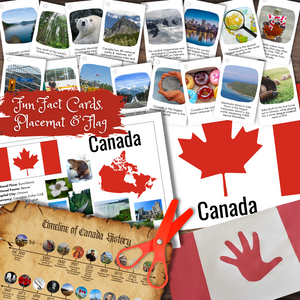 CANADA Canadian Information Poster, Timeline, Fun Facts Cards, Flag & Flag Craft
Learn all about Canada (and North America) in this fun interactive hands-on educational bundle. Learn fun facts and information with the Canada Poster, Flag & Fun Fact Cards. Create a fun hands-on craft the Canadian flag out of beans, including step-by-step instructions. Learn about major events in Canada's history with the timeline poster.
Includes six (6) pages of resources, sized 8.5 X 11 inches. *Resources also included in the CANADA Activity Book.