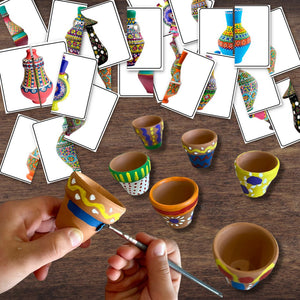 EGYPT Egyptian Traditional Kolla Vase Pottery Craft & Full Color Matching Cards
Egyptian artistic painted pottery vessel known as "kolla" are made of clay and painted bright colors. Egyptian pottery dates back thousands of years into the history of the Ancient Egyptians. Today, this handmade colorful pottery is available along the streets of many tourist locations.
Step-by-step activity instructions how to create your own "kolla" inspired planters as well as full-color matching cards which promotes recall and identification in young learners. Includes three pages of resources.
*Resources also included in Egypt Unit Study Bundle.