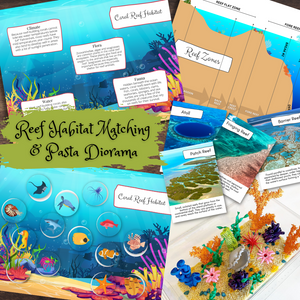 CORAL REEF Habitat Biome Study Matching Puzzle, 3-Part Cards, Diorama Activity
Learn all about the coral reef biome with this interactive matching puzzle with animals you would find there. Includes a info poster on climate, flora/fauna and water, and types of reef categories. Also includes a reef anatomy diagram poster and instructions how to make your own reef out of pasta.
Includes 7 pages of resources, printables also included in the Australia Activity Bundle.