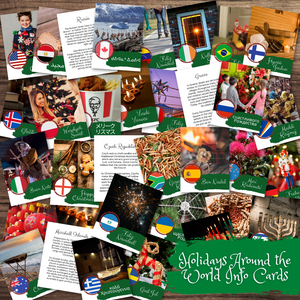 CHRISTMAS Around the WORLD Info Cards - Learn 32 International Traditions!
Learn about how Christmas is celebrated around the world in full color info cards. Each card includes photo of tradition, celebration or unique activity, with a descriptive writeup, how to write "Merry Christmas" in the native language and the country's flag. A perfect way to learn about world cultures and learn new ways of celebrating this international holiday. Includes 16 pages of resources, with 32 different countries represented. 
Countries Included: Philippines, Iceland, Norway, Japan, Finland, Spain, Israel, Africa*, Germany, Venezuela, Australia, Sweden, Czech Republic, Mexico, Russia, Greece, Egypt, USA, Canada, China, Brazil, Ireland, Ukraine, Poland, El Salvador, India, Italy, Jamaica, South Africa, England, New Zealand, Marshall Islands.
*Africa includes multiple countries in this continent, represented as a group.
*Resources included in our Christmas Activity Book