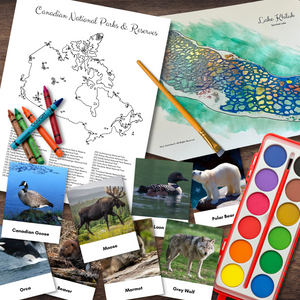 CANADA Canadian National Park Poster, Lake Khiluk Craft, Fauna 3-Part Cards
Learn about the many national parks Canada has with our illustrated poster - perfect for coloring and identifying the parks and geographical location. Create a fun process-art activity of Lake Khiluk, also known as Spotted Lake using crayons and water colors. Lastly, learn about the common animals of Canada with full color, Montessori-inspired 3-Part Cards.
Includes eight (8) pages of resources, sized 8.5 X 11 inches. Resources also included in the CANADA Activity Book.