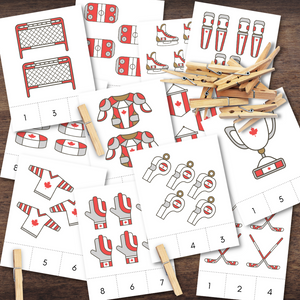 CANADA Canadian Hockey Themed Montessori-Inspired Counting Clip Cards
Practice visual recognition of numbers with these Canadian-themed Hockey Counting Cards. These Montessori-inspired can help little ones learn to visually recognize numbers or use them as visuals to count to various low-value numbers. Use with clothespins to promote fine motor skills and identify correct value.
Includes three (3) pages of resources, sized 8.5 X 11 inches. Resources also included in the CANADA Activity Book.