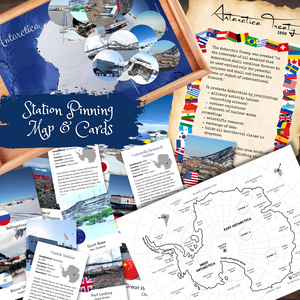 ANTARCTICA Stations Info Cards Base Pinning Activity Detail Geographical Map
Learn about some of the research stations of Antarctica from countries around the world. Each card includes flag and a small writeup about each, including a location for each. Pin these locations on a full color map of the continent, and learn about the major geographical locations, including ice shelves, surrounding seas, landmasses and geographical areas of interest. Learn about the Antarctica Treaty, created in 1959 which helps keep Antarctica free and safe.
Includes 13 pages of resources, also included in the Antarctica Activity e-Book/Bundle.