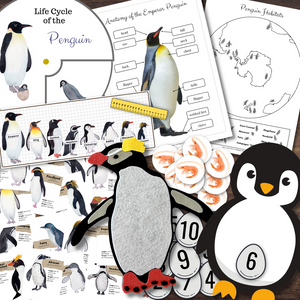 Antarctic PENGUIN Study Flashcards Habitat Measuring Felt Puzzle Counting
Antarctica is home to eight species of penguins and two exclusively. In addition, the Antarctic zones have additional penguin species. Learn their habitat zones and read about each penguin species with full color gorgeous watercolor info cards.

Penguins also range in size, so compare and contrast sizing with our Units of Measurement activity featuring the penguins of Antarctica. Learn the anatomy and life cycle of the emperor penguin and make a interactive felt puzzle of the rockhopper penguin. Practice counting 1-20 with the adorable penguin counting activity and practice the penguin egg waddle of the emperor penguin.

Includes 16 pages of resources - also included in the Antarctica Activity e-Book/Bundle.